Reasons for choosing Jiyugaoka Clinic
We provide sincere medical solutions designed from the viewpoint of the patient
With an emphasis on counseling, we offer treatments specifically tailored to each individual. For each cosmetic procedure, we aim to provide easy-to-understand explanations to ensure that the patient fully understands what will be done and can receive it with full peace of mind.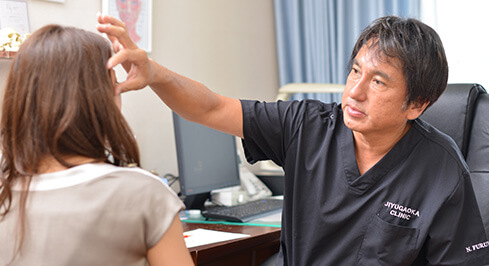 We use highly safe medical device and drugs
All the medical device and drugs used in our clinic are highly safe products from reputable manufacturers. Moreover, all our staff practice thorough hygiene control and inspections, and implement daily safety management as part of their work.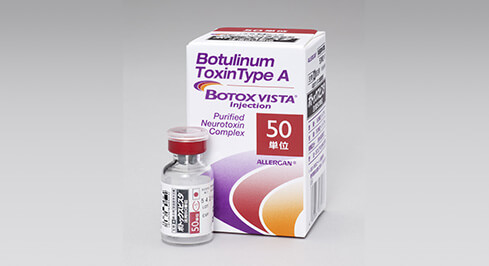 We provide the latest anti-ageing care treatments
Our "beauty specialists" recognized for their technical expertise both in Japan and abroad, offer state-of-the-art medical aesthetic treatment . We offer services include special menus featuring advanced treatments developed in house and not available anywhere else.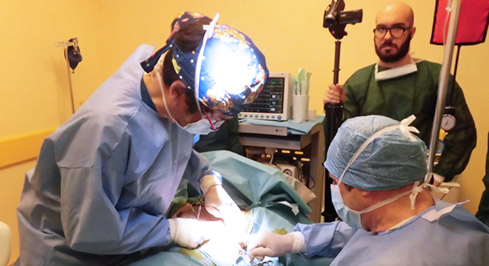 A luxurious space and spirit of hospitality
We welcome patients with attentive hospitality worthy of a five-star hotel. Please come enjoy a special time polishing your beauty, both body and mind, in a luxurious space that is among the largest of its kind in Japan.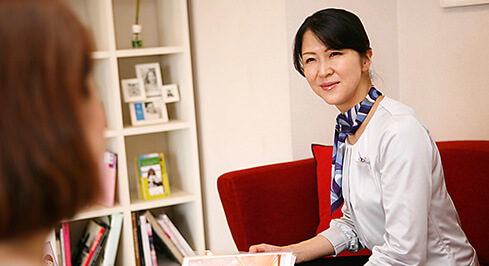 ---
Doctors
Welcome to this first-class stage.

Our top-ranked doctors, who are leaders in cosmetic medicine in Asia, offer beauty that stands out above the rest.

Jiyugaoka Clinic employs only top-class doctors who are highly acclaimed both in Japan and abroad. We use the following two main selection criteria.
Rank of associate professor or higher at a university hospital, or equivalent level of expertise earned at academic societies or the like
In the case of doctors from other beauty clinics, technical expertise and experience at the clinic director level
Jiyugaoka Clinic is the only facility which is capable of providing "Japan's highest level team medical cosmetic treatment" through doctors who have cleared the above criteria.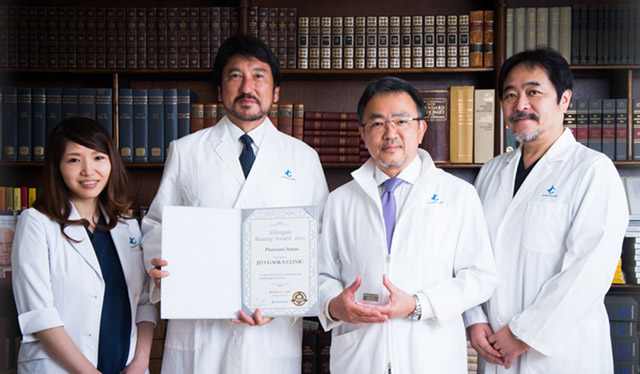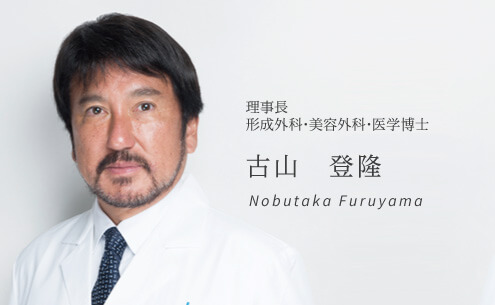 Nobutaka Furuyama
Plastic and Cosmetic Surgery / Doctor of Medicine, Jiyugaoka Clinic President
Creating truly unique beauty
Consummate technical capabilities that enthrall celebrities around the world
Dr. Furuyama is widely known as a pioneer of cosmetic medicine in Japan who was the first to launch "cosmetic surgery" department at a university hospital in Japan. His outstanding technical skills have won him international acclaim and earned him the moniker of "Asia's No. 1 doctor," and he is actively working both in Japan and overseas as a teaching doctor alongside famous overseas doctors.
Moreover, Dr. Furuyama is Japan's representative member of the Asia-Pacific Advisory Board Meeting, which counts as its members only the top doctors of the world, is the recipient of the Allergan Beauty Award 2015 in recognition of this outstanding contributions to the development of cosmetic medicine in Japan, and is a world authority of non-surgical cosmetic medicine.

Special expertise: Botox and hyaluronic acid injection, thread lift for facial rejuvenation.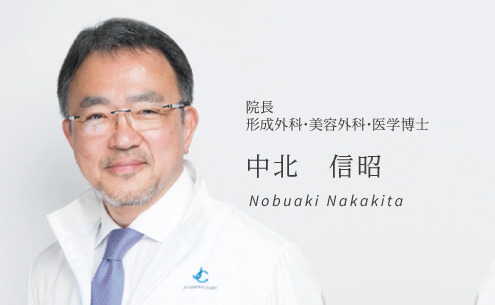 Nobuaki Nakakita
Plastic and Cosmetic Surgery / Doctor of Medicine, Jiyugaoka Clinic Director
A surgery professional chosen as the No. 1 "outstanding doctor selected by top doctors"
Called the "super doctor who delivers maximum satisfaction with his own proprietary techniques, he is also famous for not being bookable less than several months in advance. In a special feature titled ""Great Doctors that Great Doctors Want to Be Treated By" published in VOGUE JAPAN, Dr. Nakakita was chosen as the No. 1 doctor in the cosmetic surgery category by cosmetic surgeons in Japan. He was the first doctor in Japan to perform rhinoplasties using diced cartilage and fascia packs. Because he insists on thorough counseling as a condition, he commands a very high rate of patient satisfaction, and many of his patients come from overseas, requesting specifically to be treated by him.

Special expertise: Skeletal correction, Nakakita-style rhinoplasty, revision rhinoplasty, eyelid surgery, etc.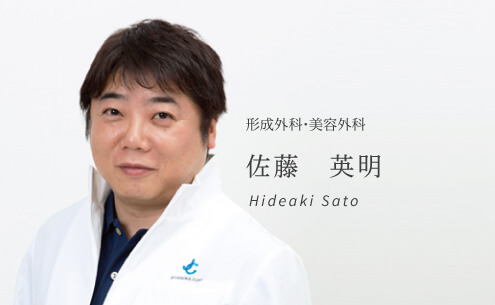 Hideaki Satoh
Plastic and Cosmetic Surgery / Jiyugaoka Clinic Medical Director
A talented doctor who serves as the director of Japan's first anti-ageing facility
Dr. Satoh is a talented doctor who was appointed Center Director of the Kitasato Institute Hospital Cosmetic Medicine Center, which was Japan's first anti-ageing facility. From cosmetic surgery to injections and laser treatment, he is an all-rounder with a wealth of experience and an extensive track record. He is a man of considerable skill recognized by Jiyugaoka Clinic Director Dr.Nakakita as "a doctor with tremendous natural talent." Along with Dr. Furuyama and Dr. Imaizumi from the Clinic, he is one of Japan's only five Botox injection certified training physicians.

Special expertise: Botox and hyaluronic acid injection treatment, eyelid surgery, rhinoplasty, face lifts, laser treatment, etc.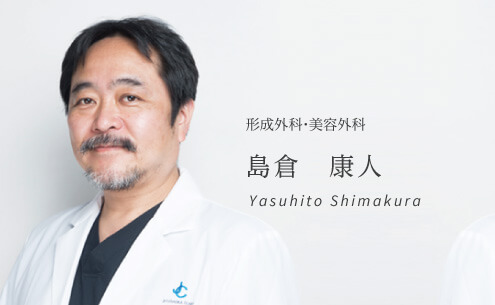 Yasuhito Shimakura
Plastic and Cosmetic Surgery / Doctor of Medicine
A plastic surgery expert who takes advantage of state-of-the-art medical treatment
After acquiring a wealth of experience in plastic surgery, general surgery, orthopedics, anesthesiology, life-saving emergency medical care, and so on, at university hospitals, Dr. Shimakura was chosen as one of the founding members of Japan's first anti-ageing facility, the Kitasato Institute Hospital Cosmetic Medicine Center. He has also worked at clinics of Cosmetic medicine and university hospitals abroad, is highly knowledgeable in the field of regenerative medicine, and utilizes his state-of-the-art know-how for the treatments he delivers. Dr. Shimakura is also actively engaged in the formation of young doctors as a lecturer in plastic surgery and cosmetic surgery at Kitasato University School of Medicine.

Special expertise: Eyelid surgery, eye correction surgery,
liposuction, fat injection (breast augmentation), breast augmentation surgery, laser treatment, etc.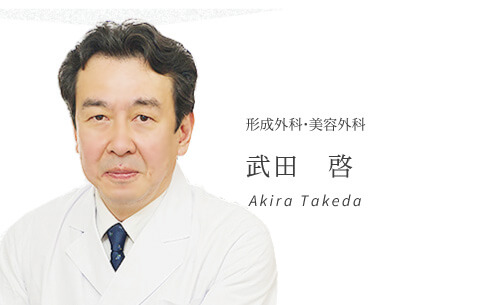 Akira Takeda
Plastic and Cosmetic Surgery / Doctor of Medicine, Jiyugaoka Clinic Special advisor on hair transplantation
One of the world's leading clinical hair restoration specialists
Dr. Takeda is a renowned doctor who serves as a professor of plastic surgery and cosmetic surgery at Kitasato University Hospital besides working at Jiyugaoka Clinic. While he is knowledgeable in all kinds of cosmetic surgery procedures, his particular expertise is in the field of hair transplant, and his mastery of the Choi transplantation technique is said to be one of the world's best. Dr. Takeda has also served as chairman of the Japan Society of Clinical Hair Restoration, and many hair treatment patients, both from Japan and abroad, specifically request him.

Special expertise: Cosmetic surgery in general,
hair transplantation surgery, regenerative medicine for hair, etc.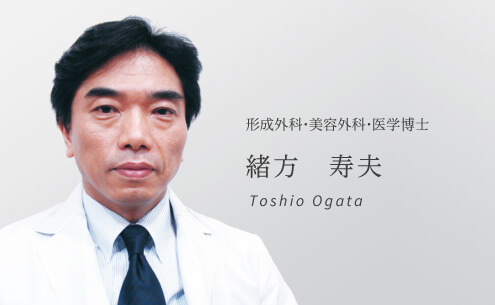 Hisao Ogata
Plastic and Cosmetic Surgery / Doctor of Medicine
An anti-ageing magician with a unique ability to restore beauty in the eye zone
Former associate professor of Keio University School of Medicine, Dept. of Plastic and Reconstructive Surgery. Specialized in lower eyelid surgery or blepharoplasty, he uses carbon dioxide laser at the surgery to remove slack from the lower eyelid, and this surgery has received high acclaim as the "Most beautiful result in Japan." Dr. Ogata has published numerous papers in various journals, and he is famous for his expertise in lower eyelid surgery.

Special expertise: Eyelid surgery (such as double eyelid surgery), lower eyelid shaping, laser treatment, etc.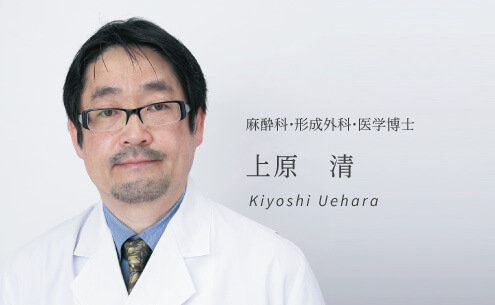 Kiyoshi Uehara
Plastic Surgery and Anesthesiology / Doctor of Medicine, Anesthesiology Specialist
An anesthesiology specialist whose wealth of knowledge and experience has earned him the utmost confidence of doctors
Based on his extensive experience and track record as an anesthesiology specialist, Dr. Uehara conducts appropriate and safe treatment according to the type of surgery and the condition of the patient. Further, he is deeply knowledgeable in pain therapy and has also been working at the Clinic as an attending physician for outpatients coming in for shoulder and neck stiffness issues.

Special expertise: Anesthesia, pain therapy, hair therapy, etc.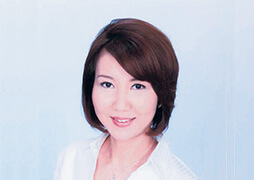 Masami Muneyuki
Cosmetic Dermatology, Dermatology / Jiyugaoka Clinic Branch Sophia Director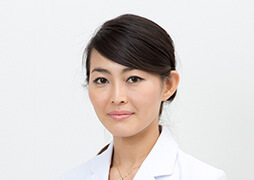 Tomoe Kajiwara
Cosmetic Dermatology, Dermatology, Cosmetic Medicine / Certified Internist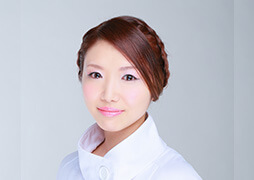 Yuka Suzuki
Cosmetic Dermatology, Dermatology / Dermatologist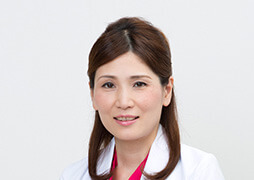 Yoshika Sugimoto
Plastic and Cosmetic Surgery
---
OPD by renowned Professors
Jiyugaoka Clinic has professor-class doctors called "Renowned Doctors" who come in periodically to perform medical examinations and treatment.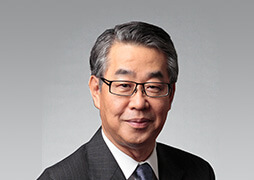 Makoto Kawashima
Dermatology, Cosmetic Dermatology
Professor of Tokyo Women's Medical University Department of Dermatology / Representative of Japanese…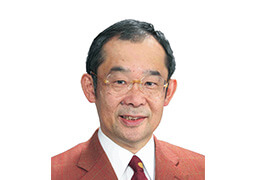 Atsuo Yanagisawa
Internal Medicine
Former Professor of Clinical Medicine at the Faculty of Health Sciences, Kyorin University / SPIC Salon Medical Clinic…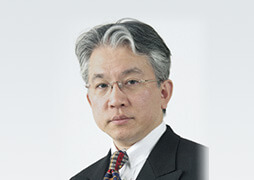 Tsuyoshi Watanabe
Cardiopulmonary and General Surgery
Former professor of cardiopulmonary and general surgery, School of Medicine, Kanazawa University / NewHeart…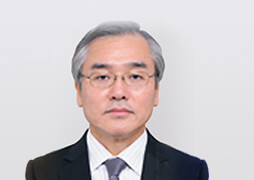 Soichiro Shibui
Neurosurgery
Professor at the School of Medicine, Teikyo University / Former Neurosurgery Chief, Central Hospital, National…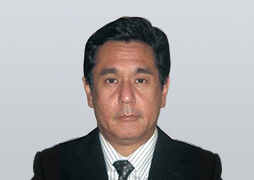 Yukihito Kokuba
Gastroenterological Surgery
General and Gastroenterological Surgery Professor at Yokohama City Seibu Hospital, School of Medicine, St…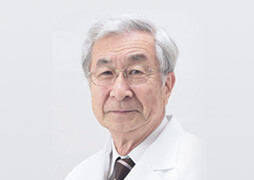 Nobuyuki Shioya
Plastic and Cosmetic Surgery
Kitasato University Professor Emeritus / Honorary Member of Japan Society of Plastic and Reconstructive Surgery /…
---
Treatments and Procedures
Injection and Filler
Botox injections
Botox is also known as botulinum toxin A. It is a bacterial protein that is processed and purified before it is packaged as an injection product.
Since many wrinkles are caused by facial expressions, Botox presents a logical way to minimize the appearance of these lines.
It works by relaxing certain muscles in the face. In order to do this, the molecules target the nerve fibers which provide signals to these muscles.
Muscles will contract when they receive transmissions of a neurochemical known as acetylcholine. Botox will interfere with this communication by blocking sites on the nerve fibers where it is released.
If the muscles are relaxed instead of contracting, this will be evident on the skin as wrinkles are minimized.
Hyaluronic acid injections
Hyaluronic acid not only improves wrinkles due to ageing, such as the nasolabial fold and wrinkles caused by sagging of the corners of the mouth, but also helps adjust the shape of parts of the face, for example giving cheeks more volume, raising the nose, and defining the chin and jawline. What's more, the hyaluronic acid has natural anti-ageing properties, effectively moisturizing your skin and making it simultaneously more supple. The result is smoother, younger-looking skin that feels firmer and tighter, giving you a more radiant and youthful overall appearance.
Combination injection method – The original style by Dr. Furuyama
Multi-point injection combining Botox and hyaluronic acid confers a youthful look to the entire face. The administration of this combination injection requires highly skilled doctors , who must firmly assess the appropriate injection amounts based on thorough familiarity with the mechanisms of ageing.
(Reasons for selecting this procedure)
Over 5,000 cases treated annually Outstanding technique and sure aesthetic judgment result in a natural looking and beautiful result.
Certified physicians who are knowledgeable about and experienced in injection treatment and have a solid track record are in charge, from counseling to treatment.
The Furuyama Original Method is able to achieve Haute couture injection that relies on advanced anatomical judgment and injection theory to produce ideal rejuvenation results.
We only use highly safe Botox and hyaluronic acid approved by Japan's Ministry of Health, Labour and Welfare.
(* In January 2016, the first medical textbook about Botox injection technique supervised by Dr. Furuyama was published.)
Thread Lift for facial rejuvenation
Thread lift
A thread-lift is a delicate cosmetic procedure to gently lift sagging facial skin to produce a smoother, more youthful appearance. If gravity has started to take its toll on your face, a thread lift may be a less invasive alternative to a face lift to rejuvenate the face without the risks and downtime associated with surgery.
Whereas fillers can help restored lost volume, threads are unique in that they are able to lift loose skin without surgery. They are ideal for people who have lost firmness in the face and neck, and have mild sagging in the cheek, jaw-line or neck.
The thread is introduced via a fine needle under the skin (virtually painless with local anaesthetic) and gradually dissolves stimulating the body's own collagen to tighten in the direction of lift desired. The lift effects are immediate and the risk and recovery are minimal.
At the Jiyugaoka Clinic, we only use self-dissolving threads that get absorbed into the body . These threads have already been used by surgeons for sutures for several years.
Matrix lift
The matrix lift is an original procedure of Jiyugaoka Clinic that combines our own proprietary thread lift technique with stem cell therapy, which is drawing strong attention these days.
This is the latest in anti-ageing treatment as it yields simultaneously the lift-up effect of thread and the rejuvenating effect of human stem cell culture extract*.

* Bostor®, Conditioned Media from Adipose-Tissue-Derived Mesenchymal Stem Cell, is a supernatant solution obtained from the culture of stem cells. This culture supernatant includes hundreds of different growth factors that can be expected to be beneficial in terms of antioxidant action, wound healing effect, and wrinkle preventing effect, among other things.Bostor® used at Jiyugaoka Clinic is a safe formulation from a reputable manufacturer with a wealth of experience and a proven track record of more than 2,000 cases in the fields of clinical and regenerative medicine..
Producing a high degree of satisfaction with the world's most advanced insertion techniques
Dr. Furuyama, who is invited every year to the Thread Lift Study Group hosted by Dr. Accardo (Italy), has developed with other top doctors of the world the latest insertion techniques. Jiyugaoka Clinic is the only place in Japan where you can receive the world's most advanced thread lift procedures.
Skin tightening treatments using medical devices
Ulthera lift
Ulthera lift is the only FDA-cleared procedure to non-invasively lift the eyebrow, neck and under-chin. And now FDA-cleared to improve décolletage and wrinkles too. It allows safe and reliable delivery of ultrasounds to deeper layers of tissue, producing a full-fledged lift-up effect without surgery.

・Introduction of the latest high-safety devicedevice of proven effectiveness
The Ulthera lift we deliver uses the latest device. It also uses more traditional ultrasound imaging, allowing practitioners to actually see the layers of tissue that are being treating, this ensures the ultrasound energy is delivered to exactly the right place and where it will be most beneficial.
Ulthera lift results and patient comfort heavily depend on physician technique, which is why our treatments are administrated by only doctors who are Ulthera specialists with expert knowledge of anatomy, not by a nurse, medical assistant or technician.
Ulthera specialists technically certified by the manufacturer are in charge, from counseling to treatment. The results are in a class of their own as these specialists administer ultrasounds while assessing the condition of the patient.

・Estheticians provide support before and after the procedure of ultrasounds.
Skilled estheticians provide thorough care, from cleansing before ultrasound irradiation to wiping off the cooling gel after irradiation and administering packs and massage to further enhance the effect of irradiation.
Cosmetic surgery
Rhinoplasty
The material used for nasal augmentation can consist of either an artifact (silicone implant)) called a prosthesis or autologous tissue (mainly ear cartilage), but at Jiyugaoka Clinic, we recommend the cartilage transplant method due to its safety and the natural looking result it produces, which can last a lifetime.
The cartilage transplant method of our clinic is called the diced cartilage transplant method (rhinoplasty using diced cartilage and fascia), a surgical procedure that overcomes the shortcomings of the conventional cartilage transplant method.
This method is called the "Nakakita-Style Rhinoplasty" owing to the fact that it was first performed in Japan by Dr. Nakakita.
Benefits of Nakakita-style rhinoplasty

・Sufficient bridge height can be achieved
Unlike the conventional method using plate-shaped cartilage, finely diced cartilage is used, allowing the obtainment of volume and sufficient bridge height. Moreover, Nakakita-style rhinoplasty does not result in irregularities on the nose like those seen with plate-shaped cartilage transplants, nor does it cause the significant deformation of the ears caused by cartilage harvesting. ・A natural and beautiful looking In the case of rhinoplasty employing the prosthesis method, the final appearance may be unnatural (hard), whereas Nakakita-style rhinoplasty produces a very natural look. Since this method eliminates the shortcomings of both the prosthesis method and the plate-shaped cartilage transplant method, it earns a high level of satisfaction from patients. Nose surgery/rhinoplasty (prosthesis method/diced cartilage transplant method), nose reduction, crooked nose correction, aquiline nose (hump) correction, nose tip reshaping, nose bridge reshaping, repair of procedures done at other hospitals, etc.
Double eyelid surgery
Double eyelid surgery can be done using either the embedding method or the incision method. At Jiyugaoka Clinic, we select the best method based on consultation with the patient regarding the wished for results. However, we do not just add a fold to the upper eyelid, but we perform double eyelid surgery designed to give each person a best aesthetic result.

Jiyugaoka Clinic method: "Durable embedding method"

The embedding method is a surgical procedure produces a double eyelid by simply passing a thread fine as a hair under the eyelid skin. The thread that is used remains invisible from the outside because it is embedded beneath the skin, and suture removal is also unnecessary.
At Jiyugaoka Clinic, we use non-dissolving thread rather than self-dissolving thread because, based on our extensive experience, this produces a more lasting result and less inflammation. Moreover, in order to securely embed the knots of the inserted thread, a small incision is made, but there is almost no scarring and very little swelling, resulting in quick recovery.
Eye area surgery / double eyelid creation (embedding method, incision method), incision of the inner corner of the eye, upper eyelid lift, lower eyelid lift, ptosis surgery, repair of procedures done at other hospitals, etc.
Face lift surgery
Face lift surgery remains the most effective procedure for wrinkles and sagging. It removes excess and sagging skin and lifts the layer of muscle that has become lose with the layer of skin, thereby simultaneously solving a wide range of wrinkles and sagging.
The face lift surgery of Jiyugaoka Clinic leaves no outstanding surgery marks and will make you look at least ten years younger.
Facial contouring surgery
Facial contouring surgery is said to be a particularly difficult and specialized field among the various types of cosmetic surgery, and requires a high level of technical expertise. The most important thing for facial contouring surgery is to consider the total balance of the patient's face. Much more than simply removing bone and changing the shape of the different parts of the face, we propose the most beautiful shape for that particular person.
Every person has their own unique concerns, and at Jiyugaoka Clinic, facial contouring surgery specialists with a long track record will answer and solve your various facial contour concerns.
Facial contour surgery / cheekbone reduction, jowl reduction, chin shaping (making the chin shorter, thinner, longer, etc.), forehead silicone insertion, repair of procedures done at other hospitals, fat injection, liposuction, etc.
Other cosmetic surgery
Breast augmentation (Silicone Implants / Filler ), breast cosmetic surgery (breast reduction, breast lifting, nipple reduction, etc.) / slimming (liposuction), etc.
Jiyugaoka Clinic offers thorough counseling and highly safe and world-class cosmetic surgeries done by doctors with extensive knowledge and a solid track record, using state-of-the-art technology.
If you want to avoid failure and receive safe procedures with peace of mind, please be sure to come in for counseling.
Clinical Hair Restoration
"Hair Transplant, the ultimate hair regeneration procedure by Japan's top specialits
Jiyugaoka Clinic's hair transplantation is done using the Choi Implanter Pen, which implants extracted graft into one act. This technique is said to be the most appropriate for Asian people, and the procedure is completed in one time with a hair retention rate as high as 95% or more. Periodic maintenance such as required by hair replacement system and wigs is not required.
At Jiyugaoka Clinic, Dr. Takeda, who enjoys tremendous trust and an impressive track record in the clinical hair restoration field in Japan, and serves as the Professor of Cosmetic Surgery and Plastic and Reconstructive Surgery Department at Kitasato University, is in charge, from counseling to surgical procedures.
Clinical Hair Restoration / Hair Transplant using with Choi Implanter pen, treatments using oral or external medicines
Preventive medicine
We check health conditions and provide support for disease prevention and early detection. We help polish up your beauty even from the inside. Injection/drip delivery of various vitamins / high-concentration vitamin C drips / various checkups / prescription of supplements, etc.
Beauty spa treatment
Jiyugaoka Clinic has also an on-site medical beauty salon that offers a rich array of skin care treatments and relaxation options. Skin Rejuvenation / Body treatments / hair loss treatments / head spa, etc.
QI have a friend who can speak Japanese here in Japan. If that friend accompanies me, can I do without a professional interpreter?
AYes, you do not need a professional interpreter in that case. However, because Jiyugaoka Clinic is a medical institution, specialized medical terms will be used during counseling. Interpreting mistakes during counseling may cause serious problems. Therefore, if you plan on relying on a friend for interpreting, please verify beforehand that your friend is a native speaker of Japanese or has equivalent Japanese ability.
If during counseling the person doing the interpreting is deemed to lack in language ability, we may decide to not carry out counseling or treatment at that time. We aim to offer safe treatment that our patients can receive with full peace of mind, and therefore advise you to use the services of a professional interpreter as much as possible.
QI am planning to come to the clinic with friends or family members (possibly more than 10). Is this alright?
AJiyugaoka Clinic always aims for attentive counseling and treatment to ensure cosmetic treatment of the highest possible quality. If you plan on coming to the clinic accompanied by friends or family, we will need to make arrangements, so please let us know ahead of time.
QCan I book my counseling or surgery date before going to Japan?
AEspecially in the case of surgical treatment, Jiyugaoka Clinic, the doctor determines the best course of treatment based on direct examination of the patient's condition and symptoms and close consultation with the patient. Therefore, counseling and surgery bookings via email only are not possible in principle.
However, in the case of patients who are admitted from abroad, this would necessitate two visits to Japan, one for counseling and one for the actual surgery. Therefore, we have established a Special System for Patients Living Abroad that allows counseling and surgery booking through email, but only for patients who live abroad.
QCould you please describe the Special System for Patients Living Abroad?
AFirst, a consultation via email is done with the attending doctor. The email counseling fee is a fixed charge of 32,400 yen (tax included), regardless of which doctor does the counseling.
The entire email counseling fee (32,400 yen, tax included) will be deducted from the surgery fee if you undergo surgery at Jiyugaoka Clinic.
* Please note that if you choose to cancel the email counseling after it has begun, we cannot refund the email counseling fee.

The email counseling is considered to start from the time payment of the email counseling fee is made to the Jiyugaoka Clinic bank account. Please note that email counseling can start only after the email counseling fee has been received.
There is no specific limit on the number of emails exchanged as part of the email counseling.
However, if an excessive number of emails exchanges occur or received emails include inappropriate content, we may elect to discontinue the email counseling. Please note that even in that case, the email counseling fee cannot be refunded.
QPlease explain the procedure for booking the surgery date after email counseling.
AThe surgery date will be arranged after the content of the surgery, the fee, and other important matters are consented to through the email counseling.
The actual surgery date will be confirmed upon verification of receipt of the full amount of the surgery fee (excluding checkup fees and the like on the day of the surgery). Please note that the surgery date cannot be fixed before payment of the surgery fee is received.
* Once the surgery date has been fixed, we will make all the necessary arrangements for drugs and staff, including the attending doctor, anesthesiologist, and nurses (operating room).
QWhich payment methods does Jiyugaoka Clinic accept?
AIn addition to payment in Japanese yen, we accept also payment by credit card, including VISA, AMERICAN EXPRESS, Master Card, and China UnionPay.
QWhat are the details of the bank account to which the email counseling fee and surgery fee should be sent to?
ARemittances from abroad should be sent to the bank account listed here.
Bank Name:MUFG Bank, LTD.
SWIFT CODE:BOTKJPJT or BOTKJPJTXXX
Bank Account:110-0719452
Account Name:JIYUGAOKACLINICFURUYAMANOBUTAKA
Bank Branch Address:1-30-3 jiyugaoka.megro-ku.Tokyo.Japan 152-0035
QCan you give a refund if I decide to cancel a booked surgery?
AYes, of course. However, the cancellation fee that will be charged is determined based on the number of days from the date of cancellation until the surgery date, so please be sure to check the cancellation fee when applying for a refund.
* Please note that the email counseling fee cannot be refunded even if the surgery is canceled.
QDo you have a pickup service for airport pickup and transportation to the hotel once I arrive in Japan?
AWe can introduce a collaborating travel agency that can arrange pickup, as well as an interpretation company. Please tell us about your needs in an inquiry email.
* These services are available for a special discount, but charges are to be borne by the patient.